Powerful 4D visualizations – new ways to view your jobsite
Live object recognition from billions of data points
Partner with EarthCam for AI Data Acquisition & Analysis
EarthCam makes automation easy, using state-of-the-art, server-side and lean "edge" analytics, surpassing the ability of human observers, so that your team can act more quickly based on concise and targeted information. Leverage EarthCam's proprietary AI detections with automated alerts, tags and 4D visualizations. Make informed decisions based on complex observations which would be unrealistic to handle manually. Optimize responsiveness to rapidly changing logistics and conditions to save time and costs.
---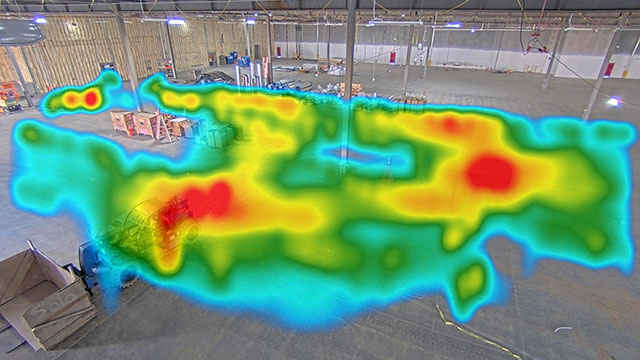 Jobsite Activity Visualization
Present data in 4D visualizations that draw from millions of data-points, giving you a new level of insight and search ability. Empower project managers to - for example - easily find all the moments where a lift was operated without a spotter to supervise, or when deliveries were made, or not made on schedule.
Visually verify reported schedule events and worker actions onsite.
Visualize density of personnel and traffic patterns with interactive heat maps.
Identify and resolve inefficiencies in jobsite flow or manpower management.
---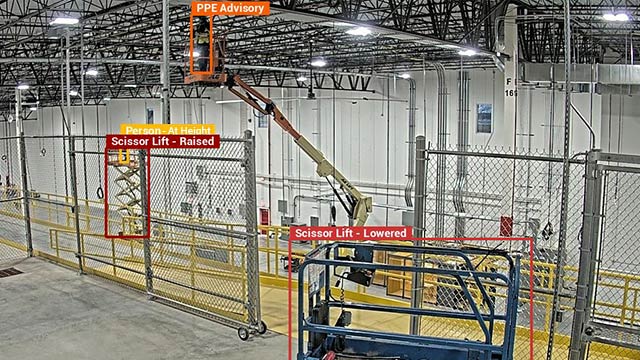 EarthCam's in-house team of engineers and data scientists can help you fast-track custom analytics for your unique use-cases. They can also help you implement EarthCam's 'off the shelf' package of powerful analytics.
Add AI as a feature to existing cameras - no need to upgrade hardware
Integrate with in-house or third-party systems easily
Powerful and full-featured RESTful API with technical support
Integrate with your in-house and third party AI applications
---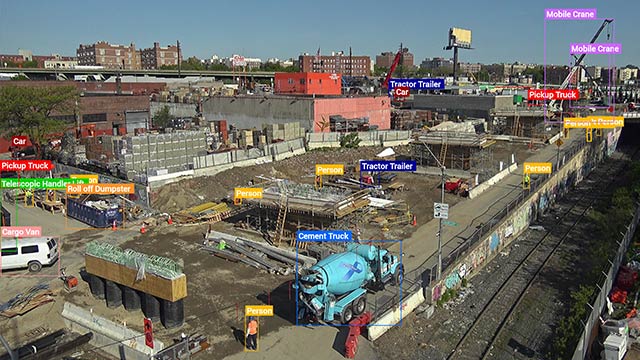 Object Recognition and Proximity Detection
AI-powered proximity detection lets you document when a vehicle and a worker, or two workers get too close. This is annotated, highlighted and graphed to provide impactful educational reporting for risk awareness and close-call mitigation.
Check equipment activity and utilization for budget visualization and cost savings.
Audit vendor billing with visual verification.
Flag exclusion zones, manage density, clashes and collisions.
Automate log entries - add visual records into popular project management systems.
---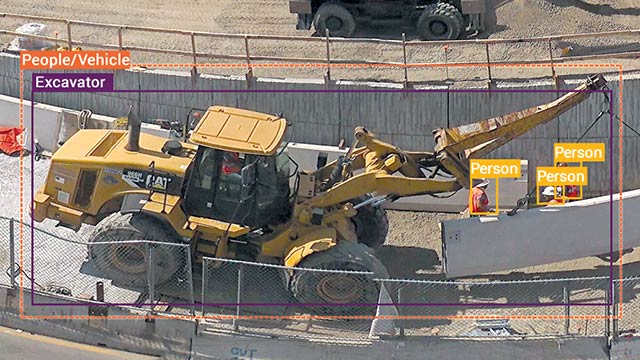 AI Powered Safety Analytics
Reduce liability, increase compliance and potentially save on insurance costs. Document hazardous conditions, incorporating footage and alerts in daily briefings to promote a safer work environment.
Track site hazards such as interactions with energized equipment and live loads.
Spot-check working conditions frequently with a combination of AI and HI analysis.
Verify proper application of safety barriers, visual warnings and protective gear.
---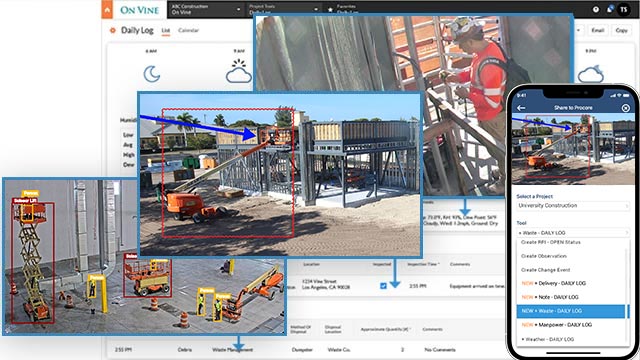 AI Powered Integrations for Project Management
Leverage the power of EarthCam's AI within your project management platforms. Automate image uploads to specific areas in Procore's Daily Log; Embed media to Autodesk BIM 360 Partner cards; Attach images to PlanGrid RFI's. EarthCam's objective, high quality imagery provides clear visual verification of jobsite conditions.
First-of-its-kind solutions to enhance jobsite safety and increase sustainability.
Notifications of critical site conditions such as weather, safety alerts or security violations.
Alerts for progress milestones, schedule changes, deliveries or waste removal.
Share data points with convenient reports and graphs or export to Procore.
Learn more about our
partner relationships
.
---
Unique AI technology helps you create and store presentation-ready time-lapse video for every stage of construction. 16 different undesirable features, including dirt, fog or rain droplets that can obstruct your images are identified and excluded automatically from your time-lapse video. Changes in site condition or camera installation defects which affect image capture quality are also detected.
---
On your BIM platform, EarthCam's AI automatically aligns 360° reality capture photos to build a cohesive archive for image comparison with your model. After alignment, manually tweak with 'Direct Align', markup the images, share detailed observations or create a time-lapse movie that highlights progress.
---
The EarthCam 'My Jobsite' skill for Alexa devices delivers high-quality live streaming video directly to you wherever you are. Simply enable the skill and say "Alexa Open My Jobsite" to see your live stream.
---