Join a Remote Class
EarthCam's 20-30 minute online classes are a great way to learn advanced features of your EarthCam camera system and software. After making a reservation, please check your email for confirmation and meeting details. We look forward to meeting with you!
Leverage the power of EarthCam's real-time visual data without having to leave the Salesforce Cloud Platform.
Every Tuesday at 2pm ET.
Share your Live-Streaming Camera in Salesforce: EarthCam's embeddable app provides access to live streaming video and high-quality webcam imagery inside Salesforce.
Add Actionable Metadata to Reporting: Visual data includes weather, project title, and date/time stamp.
Annotate Images: Marked-up high resolution images are easily uploaded from EarthCam's Control Center 8 platform directly to Salesforce.
Easily Access All Your Visual Information: Enhance collaboration inside Salesforce with high-quality webcam imagery – access live visual date via CRM records.
Learn features and how to navigate Control Center 8, Earthcam's software as a service platform that enables smart project documentation and controls multiple camera networks.
Every Wednesday at 3 pm ET.
User Management
: Detailed explanation of user profiles and security permissions.
Live Streaming Video Cameras
: Learn the major camera and view control functions to optimize video quality.
EVR (Edge Video Recording)
: Record your entire project, 24/7 for 365 days in HD video with Edge Video Recording. Access historical video, share images and save 5 minute clips.
Archives
: Learn how to view, share archived images and instantly promote AI time-lapse movies. See EarthCam's Image Comparison Tool that enables real-time overlay of historical images.
Solar & Wireless Data Center
: Learn how to instantly access vital data about your camera system performance, power source, network speed and location - like an EKG for your camera network. Monitor your solar power performance with new in-app solar analytics and battery monitoring. See live feedback to optimize solar panel positioning.
Project Updates & Marketing Presentations
: Easily create reports, unique and dynamic marketing pieces for your office, website, social media and clients.
Access, Share & Promote Your Project
: Snap and post important views to share with team members. Communicate change orders or flag jobsite materials that need to be ordered, and promote construction milestones.
Harness the power of AI detections on your jobsite by mastering EarthCam's AI Media Dashboard.
Every Thursday at 5PM ET.
Filters: Learn how to cut through the noise and find the data you need quickly and easily.
File Manipulation: Become familiar with how to upload your own images to the dashboard and manipulate them in various ways.
Activity Graph: Understand the insights available at a glance from the activity graph, and learn how to drill down to individual detection events.
Image Thumbnail Library: Master the manipulation of files in the thumbnail library and understand its organizational scheme.
Requirements: Users should be familiar with construction project management software.
Master 360° photography of jobsite progress using VR Site Tour, EarthCam's reality capture solution.
Every Wednesday at 4 pm ET.
User Management
: Detailed explanation of user profiles and security permissions.
VR 360° Camera
: We'll explain how to get the best quality images and video from the 360° camera to efficiently document project status with informative visuals.
Site and Floor Plans
: Learn how to upload site and floor plans to begin taking 360° photography to geotag to location markers.
Archives
: View, markup and share your archived images. Attach notes to markers and annotate images. See EarthCam's powerful Image Comparison Tools in action.
Project Updates & Marketing Presentations
: Learn how to easily create and share custom reports. Custom reports include floor plans, 360° images, environmental data and notes. Customize the guided tour of your project for client and stake holder meetings.
Access, Share & Stay Updated on Your Project
: Markup 360° images and easily share with your team members. Communicate change orders or flag jobsite materials that need to be ordered. Promote construction milestones by easily sharing images via email or social media.
Incorporate Visual Content for Successful Project Management with the number one site camera solution. EarthCam's unmatched integration with Procore brings users valuable features to enhance project management and jobsite productivity.
Every Thursday at 4 pm EST.
Upload critical visual information to a project in Procore:
Log in, select project, tool, markups, enhancers/filters, overlays
360° image viewer
Utilize tools most relevant to a project ensuring images are where they are needed most:
Upload Image, RFI, Change Event, and Observations
Daily Log & Automation:
Single Upload: Weather, Equipment, Inspections, Safety Violations, Accidents
Automated option: Weather & Waste
Site Camera, Drone & 360 Imagery can be used.
Embed EarthCam's Broadway Media Player into Procore's interface for easy access to project camera:
Alleviates app switching
Provides similar functions as seen in Control Center 8 (CC8) Share Modal
Navigate to CC8 for additional functionality and project access.
Install from within Procore or MarketPlace.

Installs only once; add configurations for additional projects.

View live videos
Optional items - Embed CC8 (full) into Procore.
Activate Daily Log automation for weather and waste.
Access documentation, client services and technical support teams to assist with set up or issues.
Incorporate visual content for successful project management with Autodesk Construction Cloud. EarthCam's unmatched integration with Autodesk brings users valuable features to enhance project management and jobsite productivity.
Every Tuesday at 3PM EST.
Automate Image Uploads, Share Directly to'Issues':
Automate visual data uploads that help construction teams execute quicker and make better, data-driven decisions
Deliver webcam, 360 VR photography and video content to Autodesk Build for a media-enhanced view of any project
Augment draft/open RFIs and Issues with annotated photographic evidence.
Automated Reporting for Weather, AI:
Automate delivery of detailed PDF weather reports to Autodesk Build for a snapshot of jobsite conditions
Upload actionable data featuring AI object detection, equipment tracking and safety analytics
Create a complete and permanent record for every project
Webcam Imagery, 360 Reality Capture, and AI-Edited Time-Lapse Videos:
EarthCam's image comparison, enhancement filters and mark-up tools provide many options to highlight changes and call out specific areas of interest directly on to photos
Share gigapixel panoramas and presentation-ready AI-edited time-lapse videos from the EarthCam interface within the Autodesk platform
Customize Autodesk Build with Partner Cards:
Access your live jobsite cameras, time-lapse movies and EarthCam-infused BIM models as part of EarthCam's new Partner Card
Use versatile and cross-platform content to support a lean construction environment
Virtual Design and Construction (VDC) teams can leverage EarthCam cameras already on the jobsite for greater insight into the project process using real-time media.
Autodesk Build Single Sign-On:
Access and view your EarthCam construction camera content in Autodesk Construction Cloud with single sign-on (SSO) for Autodesk
EarthCam managed services clients can login using their Autodesk user name and password

Learn how to create a digital twin of your project using your 3D model, the EarthCam videos and photos gathered on your jobsite alongside sensor data and AI object detections. In this course you'll learn how real time video, 360° photography and Gigapixel imagery from your construction cameras can be correlated in a single platform for team collaboration.
Every Tuesday at 4PM ET.
Collaboration with 3D Models & Video: Integrate real-time video, 360° and Gigapixel imagery from your construction cameras with your BIM or 3D models into a single platform to enhance progress visualization. Upgrade your digital twins with augmented reality views to provide intelligent perspectives of your jobsite throughout the entire project.
Precisely Align Live Imagery Over 3D Models: Synch live camera streams with your 3D models - pan, tilt and zoom to reveal real-time architectural details while immediately seeing the corresponding model alignment. Deliver x-ray-like insight and clear visual evidence of progress for your VDC team. Easily integrate 40+ different model formats, including Revit, Navisworks and SketchUp.
Compare As-Built to As-Designed Conditions: Provide real-time representation of project status and identify possible conflicts or clashes before they arise. Make informed decisions and save valuable resources. Combine live jobsite cameras, AI, and 360° reality capture to streamline schedule management. Create a time-lapse to highlight progress and build an archive.
EarthCam 3D Imagery for your Project Management Platform: Incorporate EarthCam 3D with project management solutions like Procore, Autodesk Construction Cloud and Raken. Markup screen captures from EarthCam 3D and upload to your chosen platform to supercharge daily logs with visual verification. Augmented reality and 3D Models make your jobsite documentation more than just photos.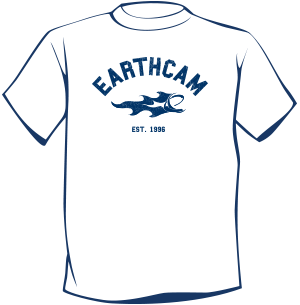 Attend a class today and receive a free EarthCam t-shirt!
IT Tools
Our robust software provides all the tools you need to seamlessly monitor and document your project. Let our experienced staff assist you by providing customized training based on your business needs. Be the first to know! Our staff will also keep you up to date on our constantly growing array of features.
EarthCam University
The sections covered in each class will continually rotate throughout the year. If there is a subject on the schedule that you feel would benefit your users, please feel free to let us know so we can tailor a class to your needs.

We look forward to showing you the many great advantages of our products and services.