Augment Digital Twins With Imagery & Automate Daily Reports
Improve visibility for project management with real-time insights in Autodesk Construction Cloud
6th Generation Integration for Visual Information
Merge Revit® or Navisworks® 3D models with EarthCam's high-resolution imagery to deliver x-ray-like insight and clear visual evidence of progress for VDC teams. Automatically deliver detailed, Weather logs, AI-powered reports with accompanying live imagery and 'Issues' direct to Autodesk® Build.

Autodesk User? Log in here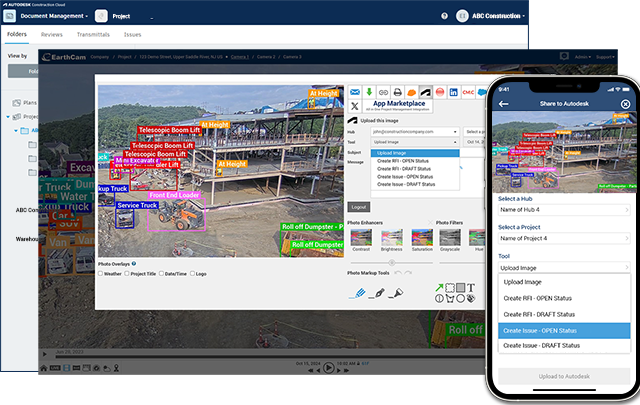 ---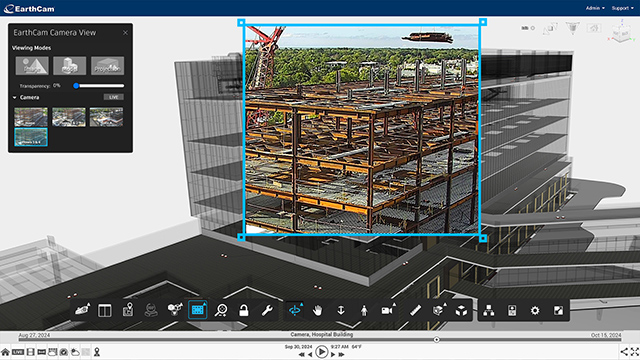 Customize, create and save different layered views within the Forge Viewer. Superimpose images and video over your choice of 3D model layers. Drill down into layers and model branches to select the exact 3D model components to incorporate with your imagery. Provide intelligent perspectives of jobsites with digital twins throughout the entire project lifecycle.
---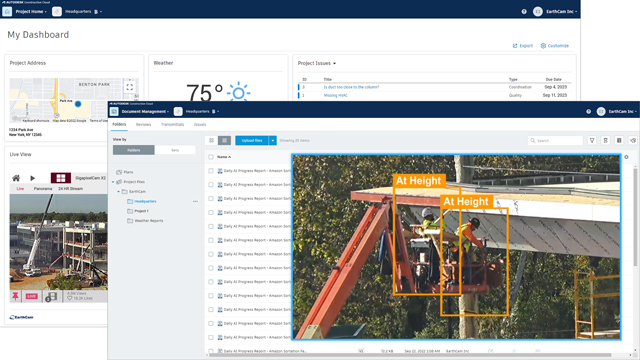 NEW!

Automate Image Uploads, Share Directly to 'Issues'

Automate visual data uploads that help construction teams execute quicker and make better, data-driven decisions. Deliver webcam, 360 VR photography and video content to Autodesk Build or PlanGrid for a media-enhanced view of any project. Augment draft/open RFIs and Issues with annotated photographic evidence.
---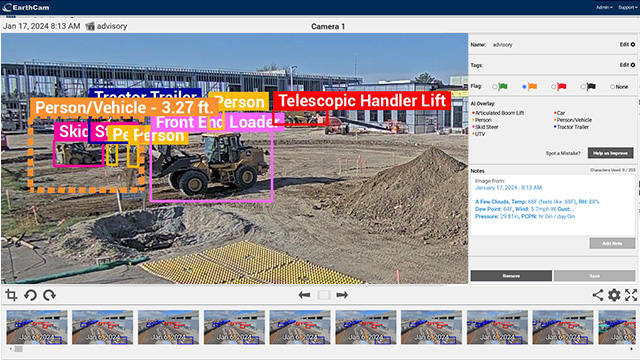 NEW!

Automated Reporting for Weather, AI

Automate delivery of detailed PDF weather reports to Autodesk Build for a snapshot of jobsite conditions. Upload actionable data featuring AI object detection, equipment tracking and safety analytics. Create a complete and permanent record for every project.
---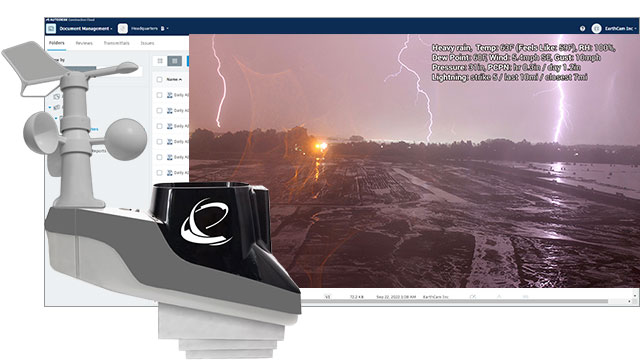 An onsite, wireless, solar-powered sensor array detects and calculates 16 points of weather and environmental data. This data is combined with NOAA observed conditions to predict and document weather events more accurately, and alert project management in seconds instead of hours.
---
Webcam Imagery, 360° Reality Capture, and AI-Edited Time-Lapse Videos
With EarthCam's image comparison, enhancement filters and mark-up tools, you have many options to highlight changes and call out specific areas of interest directly on to photos. In addition, you can instantly share gigapixel panoramas and presentation-ready AI-edited time-lapse videos from the EarthCam interface within the Autodesk platform.
---
Access your live jobsite cameras, time-lapse movies and EarthCam-infused BIM models as part of EarthCam's new Partner Card. Use versatile and cross-platform content to support a lean construction environment. Virtual Design and Construction (VDC) teams can leverage EarthCam cameras already on the jobsite for greater insight into the project process using real-time media.
---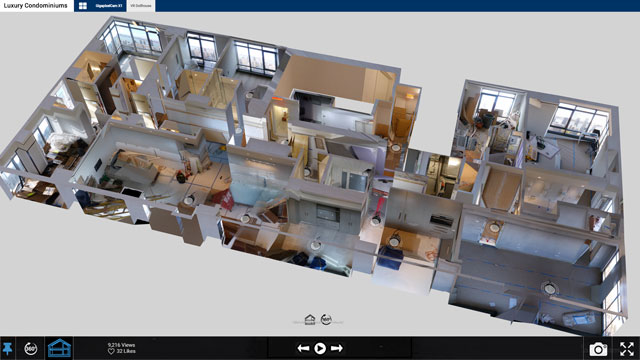 VR Dollhouse views are created by merging 360° photo content with Navisworks or Revit models for a new way to walk the jobsite. Eliminate time consuming and expensive scans and assess jobsite progress, resolve disputes and communicate with stakeholders using remote fly-through navigation.
---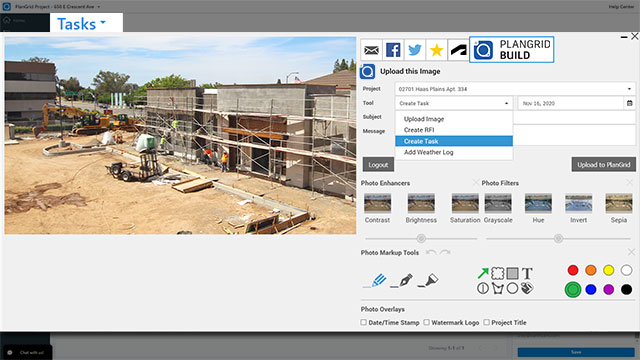 Upload EarthCam visual data directly to PlanGrid RFIs or Document Folder. Actionable items, supported with imagery, can be assigned to project team members to fast-track understanding about what work needs to be completed, and by when, promoting collaboration and avoiding delays.
---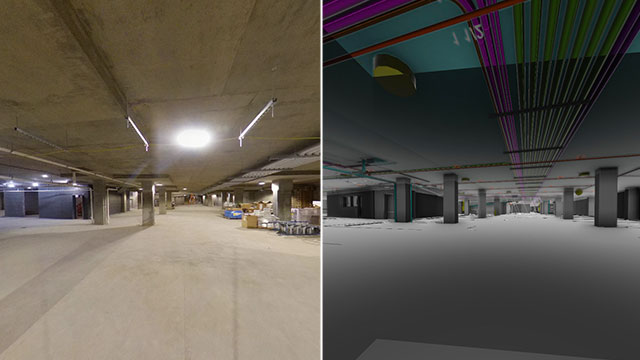 Compare As-Built to As-Designed Conditions
View your EarthCam jobsite cameras and imagery in relation to Navisworks and Revit 3D models. Synched live camera streams are meshed with model views, and users can pan, tilt and zoom to reveal architectural details while immediately seeing the corresponding model alignment. Execute measurement functions between webcam images, 2D plans or 3D models.
---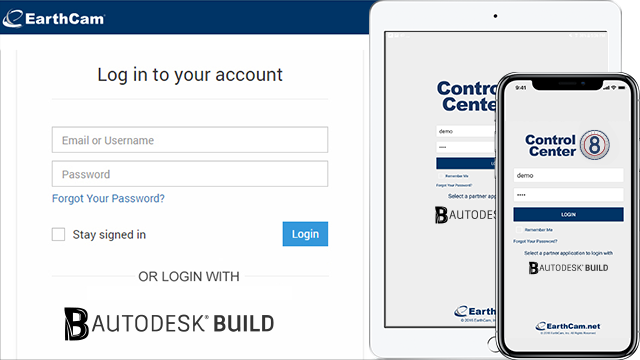 Access and view your EarthCam construction camera content in Autodesk Construction Cloud with single sign-on (SSO) for Autodesk. EarthCam managed services clients can login using their Autodesk user name and password. For assistance with creating a new EarthCam Control Center 8 account, click here.
---