Data-Rich Imagery for a More Intelligent Jobsite
Leading-edge technology to quickly communicate interior progress
Photography Documentation
While construction cameras are one of the most powerful tools found on jobsites today, EarthCam's software behind the camera truly takes your construction documentation to the next level. EarthCam has raised the bar on what it means to document important construction projects, delivering insightful and meaningful ways to document your interiors.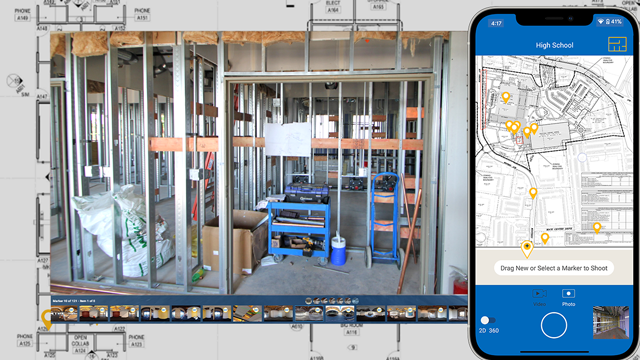 ---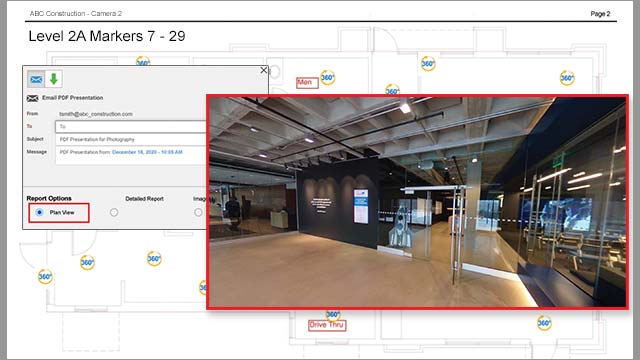 Custom PDF Reports
Reporting styles give teams more options to share exactly the right amount of project detail with the right people at the right time. The 'Plan View' interactive PDF report contains the floor plan and overlaid location markers. The last picture taken at each location marker can be viewed by clicking on the marker. No special software is required to view the 360° image and file size is kept to a minimum making it easy and convenient to email. If a more comprehensive report is required, select 'Detailed Report' or 'Image Map' report style options.
---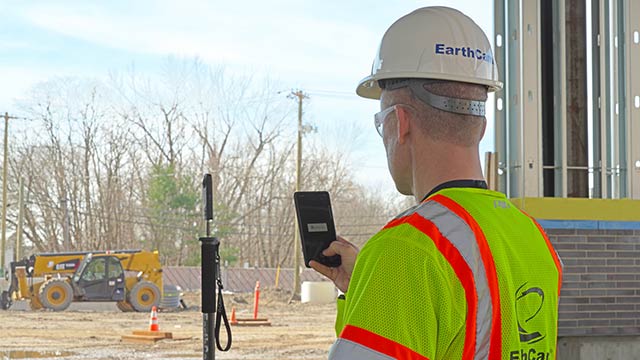 Capture and Assign Jobsite Photos
Shoot critical areas of a jobsite, capturing important visual evidence of pre-existing and as-built conditions. With the VR Site Tour app, photograph interior jobsite progress and make note of potential issues. Using EarthCam's geo-tagging mapping technology, photos are automatically organized by location within a plan. Use Control Center 8 to add images to a site plan marker for a complete visual history of interior progress.
---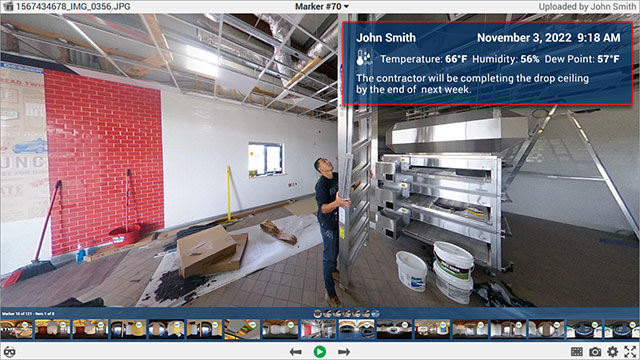 Image Viewer and 360° VR Imagery
360° images are automatically assembled into a guided tour of a jobsite, giving users the ability to inspect each room and remotely explore via the click of a mouse or the tap of an Oculus headset. These detailed images create an indisputable record of as-built and pre-existing conditions. One 360° photo captures all four walls, floor and ceiling, providing as much information as 8 separate photos.
---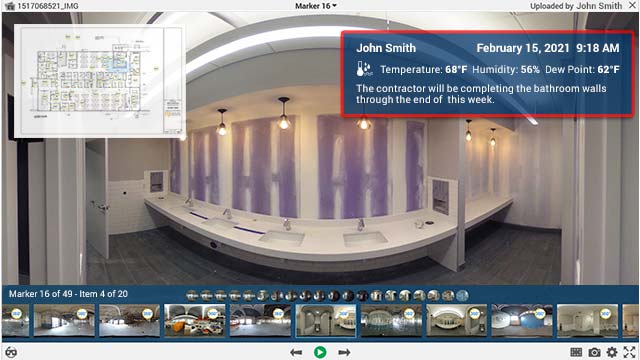 Environmental Data Sensor
EarthCam's interior cameras and photography solutions now support additional onsite environmental data. An integrated sensor monitors temperature, humidity and dew point at the jobsite location. This critical information is important for worker safety and quality control purposes to alert contractors to specific environmental conditions that may affect the installation of certain materials. These data points are embedded into every image and provide a detailed historic record of the project from start to finish.
---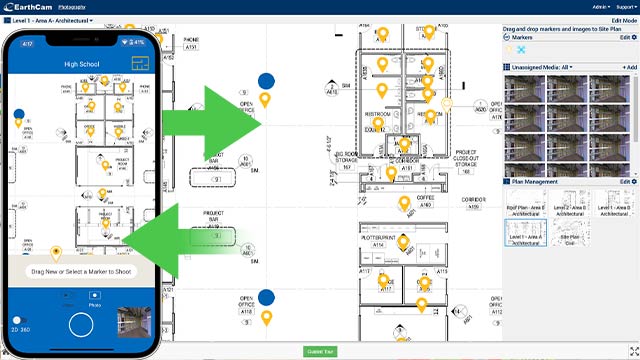 Integration with Control Center 8 Software
All markers and jobsite photos are uploaded from the VR Site Tour app to EarthCam's Control Center 8 software for effective project management. Markers and photos can be managed in more detail using the tools provided in the online dashboard.
---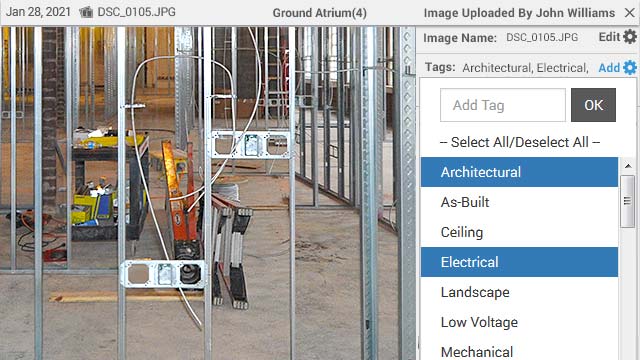 Edit and markup images to email and share
Add notes, tags and flags to images for efficient search via filters. Assign tags to each image, such as mechanical, plumbing or structural. Assign a colored flag (red, amber or green) to indicate an urgent issue or mark a milestone. Search, filter and view only images marked with specific tags and create a virtual punch list for quick analysis and progress reports. Easy to use markup tools allow for highlighted areas, observations and text overlay. These edits are saved and can be emailed to stakeholders to enable quick decisions while not having to travel to the jobsite. "Beauty shots" of the project are an effective marketing tool to use via social media platforms.
---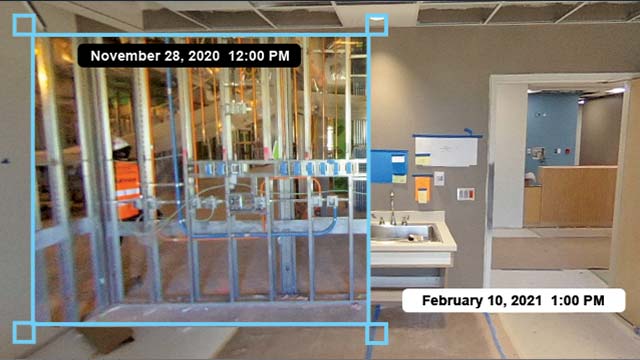 Analyze and Compare Images
Images can be marked and overlaid as a virtual x-ray, comparing different stages of construction. Using this unique tool, project teams can look behind finished walls to ensure that all work was performed properly. Taking this proactive approach will ensure that building owners and operators have an accurate and reliable as-built photo record for ongoing maintenance reference.
---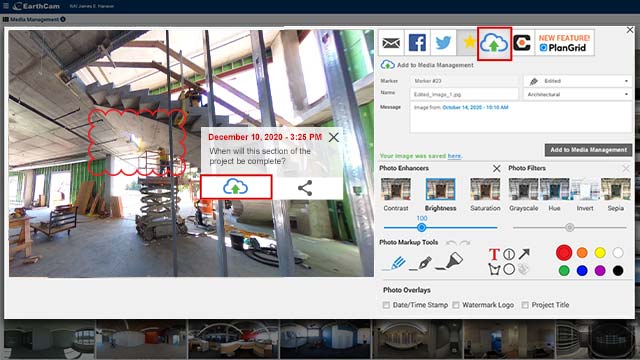 Email and Share Images
Save, email and share photos in real time with team members. With easy-to-use markup tools, highlight specific areas of the jobsite and add text to share observations on captured images. Provide architects, engineers, project developers and contractors with all the necessary visual information to make quick decisions. "Beauty shots" of the project are an effective marketing tool to use via social media platforms.


---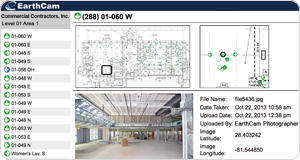 End of Project Report
At the end of the project, EarthCam clients receive a comprehensive End of Project digital file. This digital file is available via FTP download. The report includes all of the floor plans, marker data, images, image notes, tags, flags and environmental data collected throughout the duration of the project. All 360 images can be viewed in a 360 interactive browser window by clicking the image.
---